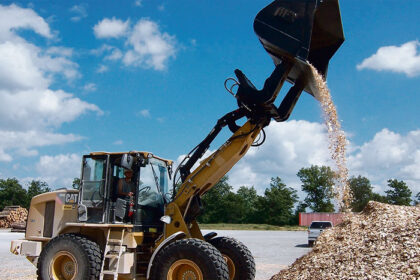 Every arm's angle has to be just right to raise the dumping height by 24 inches, improving loading tall mixers, trucks
If geometry is key to coaxing the most work from a front loader bucket, then Werk-Brau engineers must have studied hard and earned good grades.
The all-new roll-out bucket employs some unique structural and mounting features that set it aside from competitors' buckets.
The new design adds 24 inches dump height, allowing smaller machines to load standard 13-foot, six-inch trailers without ramps. Tandem hydraulic cylinders raise the back of the bucket to achieve the higher dump height. The recessed under carriage lowers the centre of gravity to improve stability, said Werk-Brau's Dale DeWeese in a phone interview.
"We already had a roll-out bucket on the market, but the engineers decided there were enough new ideas to merit a total re-design," said DeWeese.
He said most competitor buckets have the arms and hydraulics mounted way out in front of the loader tractor, where they cause the machine to be unstable at full height.
"The biggest factor in our new roll-out bucket is the way we moved the carriage mounting so it's low and tucked in further back. The recessed carriage puts less stress on the tractor and channels more power to the bucket itself.
"The geometry is so important. This design lets you lift all the way up to the maximum tip height of your loader. That's the easy part. We've added extra geometry with those arms to make the bucket roll out from the linkage. It removes the dump angle and dump height limitations of the loader, and puts those limitations out at the bucket. And those limitations are not as great as with other buckets."
Visibility slots on the top of the bucket allow the operator a better sightline. All critical wear points are manufactured with high-strength T-1 steel. Abrasion resistant wear straps reinforce the bucket bottom. The new bucket is intended for light, low-density materials weighing less than 2,000 pounds per cu. yard. Prices start at $10,000.
All Werk-Brau attachments are built to OEM specifications for all makes and models of all wheel loaders. They use manufacturers' specifications for lift and height capacity, then spec out the materials to match the requirement. Werk-Brau products are made in the United States and sold through 60 equipment dealers in Canada.
See original article here.