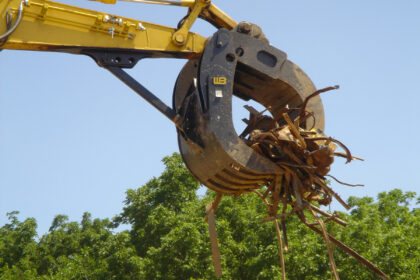 Werk-Brau introduces a wide mouth box-style grapple attachment specifically designed to handle objects of differing sizes like demolition debris, brush, rocks, and more. Standard sizes are engineered for excavators from 12 to 60 tons, with additional tine- and width-configurations available to maximize efficiency and productivity on job-specific applications. Rugged construction with T-1 steel utilized in all critical or high wear components. Ribbed internal gusseting or reinforcements strengthen the main body of the grapple. Multiple pass welds for added strength and durability. Wear-resistant high strength steel throughout the weldment, and hardened, greaseable bushings utilized at all pivot points ensure a long service life even in harsh conditions. All pivot points are line-bored after welding to ensure alignment and grapple tracking. All attachments 100% weld inspected, and final quality inspection completed after paint and assembly. Edge pads at the end of each tine allow longer service life.  Werk-Brau Box Grapples are ideal for gathering of demolition debris, sorting of materials, brush removal, soil scoring, root extraction, and other land clearing/demolition tasks.
Designed to the same curl/dump angle as standard digging bucket maintains the OEM specifications for the machine, making it easier for the operator. Quick-coupled for fast and easy attachment so that the proper tool is always at hand. Box Rake has complete meshment with the optional Werk-Brau thumb, ensuring better clamping and gripping action regardless of load size. With the latest CAD design and finite element analysis tools, Werk-Brau can customize any of their attachments, including Box Grapples, to alter the number and spacing of tines, for example, to best applications that would benefit a wider or narrower pick-up stance.
Werk-Brau manufactures a complete line of OEM and replacement attachments for excavators, mini excavators, backhoes, mini and full-size loaders, and crawler loaders.  Since 1947, they have been industry leading innovators, designing, and producing specialty products for the heavy equipment industry.  Their products are made in the USA and sold through equipment dealers and distributors worldwide.  More than 70 years after their founding, the core principles of the company remain relevant – "provide customers with the utmost service, quality, and maintain the quality that bears the Werk-Brau name."
For more information on Werk-Brau products,  contact Dale DeWeese at (800) 537-9561, or via e-mail at sales@Werk-Brau.com, or visit them online at www.Werk-Brau.com.