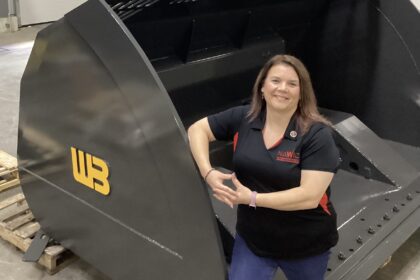 Two-day program will feature a keynote by nationally renowned speaker Barbara J. Jackson.
Werk-Brau, a leading manufacturer of buckets, thumbs, couplers, and attachments for excavators and loaders, will host a Women in Construction event at their Findlay, Ohio headquarters on March 5-6, 2024.
The transformative 2-day program will draw women of all ages, backgrounds, and experiences, to harness their power and redefine the industry's landscape.
In addition to a keynote address by nationally renowned speaker Barbara J. Jackson, there will be networking opportunities, thought-provoking panel discussions, and interactive breakout sessions tailored to address the challenges and opportunities within an industry traditionally populated by men.
Attendees can discover how their contributions can further shape and redefine the future of the field, acquire a competitive edge by staying a step ahead of the curve, and gain knowledge and confidence to take on any challenge.
Keynote Speaker – Barbara Jackson
Barbara J. Jackson, Ph.D., FDBIA Director & President, Barbara Jackson LLC will give a keynote address to kick off the event. She served a chief estimator, senior project manager and CEO of Design-Build Services Inc, for 20 years, and spent 15 years developing design-build and integrated project delivery education at Cal Poly in San Luis Obispo before returning to Colorado in August 2013 to become Director of the Burns School of Real Estate and Construction Management at the University of Denver.
As Director of the Burns School, she developed and delivered the most advanced education in the built environment. In 2022 Jackson transitioned from a career in academia to dedicate her efforts towards transforming leadership and culture in the AEC industry through her company Barbara Jackson LLC. Dr. Jackson is a nationally renowned thought leader in the AEC industry, specializing in design-build, integrated project leadership, gender intelligence, collaboration, and cultural transformation.
In 2018, she received the Brunelleschi Lifetime Achievement Award from the Design/Build Institute of America (DBIA) and became a DBIA Fellow. In 2021 she was inducted into the National Academy of Construction (NAC). Jackson has also received numerous Distinguished Leadership and Service awards.
As a nationally recognized speaker, she presents innovative industry material to various audiences. In 2015, she established the Women Building Change Leadership Boot Camp, focusing on women in construction leadership. In 2023, she launched additional leadership programs and one-on-one coaching. She has written two books – Construction Management Jumpstart and Design-Build Essentials. For more information visit https://barbarajackson.com.
Break Out Session Speaker – Anne Pfleger
Anne Pfleger, CIT, CBT, has been working in the construction and transportation industries for 30 years. She joined Hancock Structural Steel, LLC as the Director of Operations in October 2021. She is also a past National President of the National Association of Women in Construction.
Becoming a member of NAWIC in 2006 ignited an internal purpose and passion, to not only improve personally, but also to support ad guide other women in the construction industry to do the same, she has also engaged parallel organizations seeking ways to be of mutual benefit to one another.
Her goal for the next few is to be the conduit to connect ad communicate collaboratively to have the conversations that will break the barriers women are facing in the construction industry.
Break Out Session Speaker – Missy Guerrero Scherber
Missy Guerrero Scherber, a renowned entrepreneur from Minneapolis/St. Paul, has carved a niched for herself in the construction industry alongside her husband Trevor. With a commanding online presence, boasting 22.6k Instagram followers and 5k monthly blog views, she's a force to be reckoned with.
Missy's experience extends beyond business development; she's an active content creator with capabilities in sponsored social media posts, dedicated blog pieces, product reviews, and even construction site photography. Recognized by top-tier brands like USA Today and Duluth Trading Company, she also stands as a Global Brand Ambassador for Caterpillar Inc and hosts the popular CONEXPO-CON/AGG Radio podcast.
A passionate advocate for women in construction, she tirelessly seeks innovative ways to elevate the industry. For more information visit https://missy-redman-g2pt.squarespace.com/
Werk-Brau has long been committed to promoting and advancing opportunities for women within the construction industry. "Advocating for Women in Construction aligns with Werk-Brau's core values of building better lives. We're dedicated to the principle that 'everybody matters' and we always strive to 'do the right thing," said National Sales Manager Dale DeWeese. "We're excited to host this important event and are eager to welcome those who are already working within the industry as well as those who are exploring its possibilities."
About Werk-Brau:
Werk-Brau manufactures a complete line of OEM and replacement attachments for excavators, mini excavators, backhoes, mini and full-size loaders, crawler loaders, and skid steers. Since 1947, they have been industry leading innovators, designing, and producing standard and specialty products for the heavy equipment industry. Their products are made in the USA and sold through equipment dealers and distributors worldwide.
More than 75 years after their founding, the core principles of the company remain relevant – "provide customers with the utmost service, quality, and maintain the quality that bears the Werk-Brau name."
For more information on Werk-Brau products, visit them online at www.Werk-Brau.com.
Read the full article online https://contractorsupplymagazine.com/pages/News—20231114-Werk-Brau-to-Host-Women-In-Construction-Event-March-5-6.php