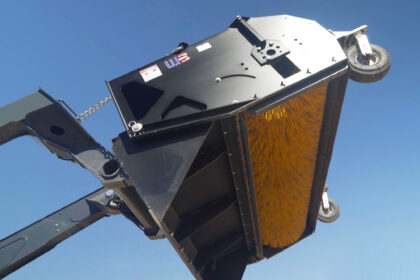 New Werk-Brau introduces hydraulically driven Skid Steer Brooms for cleaning, clearing, and pick-up for removal of  dirt, debris, grass and more. They are available in 6-foot widths with 14.3 cubic foot hopper, and 7-foot widths with 16.1 cubic foot hopper, each fitted with heavy-duty, 10-inch, 360° swivel casters. Hopper is dumped using the loader dump function; chains attached to loaders arm support the hopper allows the bucket to dump. Polypropylene brush with wire filaments provides long service life even in adverse conditions.  Hydraulically driven brooms are powered by a single, low-flow, hydraulic motor capable of 8-11 gpm flow.  Optional dual hydraulic motors capable of 20-44 gpm flow (standard), and dual hydraulic motors for low flow (16-28 gpm) motor are available. A loader mounting kit for universal skid steers includes a mounting frame with pin-on ears allows simple mounting, dis-mounting, and storage. Custom mounting designs available at additional cost. Broom speeds of up to 200 RPM are attainable, depending on the prime mover, making this Dump Bucket Pick-Up Broom an ideal attachment for skid steers of all makes, models, and sizes.
A video demonstration of the brooms in action may be viewed at https://www.youtube.com/watch?v=CWR8k5c6-40.
Werk-Brau Brooms are American-made and available with industry leading lead-times; some models are stocked for immediate shipment. Wafer style brush has 25" outside diameter (OD) x 6 – 3/8" inside diameter (ID). Brush core can be installed with either end to the left/right with no effect on sweeping performance, to simplify installation. Brush and core assembly can be removed from frame without disconnecting drive motor hoses. Brush hopper is manufactured from 14-gauge steel with1/4-inch side panels. Heavy-duty, self-aligning, flange-style bearings support the broom core. An adjustable baffle allows the broom to completely fill bucket. Rubber deflectors are included to contain material. The hopper bucket is made from 10-gauge steel with 3/8-inch side plates and includes ¼-inch wear bars welded to the bucket bottom for increased service life. Each includes rubber deflectors to contain material, and a replaceable cutting edge.
Brooms are standard with a single, low-speed, high-torque, 18-cid hydraulic motor. Motors are coupled directly to the brush core through a 1-inch, 6-spline shaft.  Hoses are provided from hydraulic motor to standard skid steer.
Finish is black polyurethane topcoat with epoxy primer for protection from the elements.  Steel surface undergoes a phosphatizing acid bath to clean and etch the surface for superior adhesion of primer and paint.
Optional accessories include dual low flow or standard flow drive motors, single low flow drive motor, independent hydraulic system (for tractors with loaders only), hydraulic dump, sight indicators, gutter brooms, and 45-gallon brush-hood-mounted sprinkler system.
Additional styles of Werk-Brau pick-up brooms are available for both skid steers and wheel loaders. Contact factory for additional details or visit https://werk-brau.com/brooms/.
Werk-Brau manufactures a complete line of OEM and replacement attachments for excavators, mini excavators, backhoes, mini and full-size loaders, crawler loaders, and skid steers.  Since 1947, they have been industry leading innovators, designing, and producing standard and specialty products for the heavy equipment industry.  Their products are made in the USA and sold through equipment dealers and distributors worldwide.  More than 75 years after their founding, the core principles of the company remain relevant – "provide customers with the utmost service, quality, and maintain the quality that bears the Werk-Brau name."
For more information on Werk-Brau products,  contact Dale DeWeese at (800) 537-9561, or via e-mail at sales@Werk-Brau.com, or visit them online at www.Werk-Brau.com.