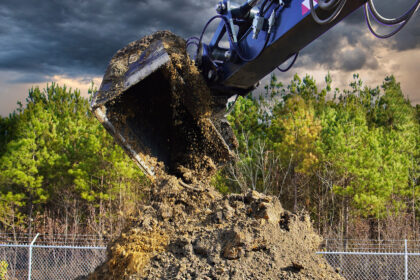 Werk-Brau introduces the Tilting Bucket with increased tilt force and 45-degrees of tilt in both directions for maximum control and articulation in ditching, grading, and sloping applications.  They eliminate machine repositioning which boosts productivity while reducing wear and tear on the tracks and undercarriage.  An enhanced, oversized cylinder design increases tilting force, allowing the unit to better hold the desired angle.  Integrated cylinder guards protect the cylinders and keep them functioning without damage or leaks. For compact excavators a single cylinder design is used, while full size excavators utilize dual cylinders. The Heavy-Duty Excavator Bucket is built to last with high quality T-1 steel utilized in all critical or high wear components, with a rigid top section to eliminate flexing.  Heavy-duty horizontal wear straps protect the bucket bottom. Each bucket is engineered with tapered side plates and a dual taper radius that reduce wear and make dumping easier. Werk-Brau Tilting Buckets are ideal for a wide range of ditch digging or cleaning applications, creating unique slopes, grading projects, and more.
All Werk-Brau Tilt Buckets are manufactured in their Findlay, Ohio factory with industry leading lead times, and available through heavy equipment dealers around the world.  They are easy to install on coupler-equipped excavators, with just two hydraulics lines to connect.
Werk-Brau manufactures a complete line of OEM and replacement attachments for excavators, mini excavators, backhoes, mini and full-size loaders, and crawler loaders.  Since 1947, they have been industry leading innovators, designing and producing specialty products for the heavy equipment industry.  Their products are made in the USA and sold through equipment dealers and distributors worldwide.  More than 70 years after their founding, the core principles of the company remain relevant – "provide customers with the utmost service, quality, and maintain the quality that bears the Werk-Brau name."
For more information on Werk-Brau products,  contact Dale DeWeese at (800) 537-9561, or via e-mail at sales@Werk-Brau.com, or visit them online at www.Werk-Brau.com.